Yosemite Elopement Guide
---
There are few places as iconically stunning as Yosemite National Park – even folks who haven't been there can recognize the granite cliffs of El Capitan or Half Dome! The sweeping vistas of Yosemite Valley, giant Sequoia Trees, plunging waterfalls, and the surrounding Sierra Nevada mountains make a Yosemite elopement a fantastic choice for any couple who wants to get married somewhere epic.
But it's not as easy as lacing up your hiking boots and tying the knot in the middle of the park – there are a few things you've gotta know first! But don't worry, we've got the scoop on how to elope in Yosemite National Park, and you'll be an expert in no time!
What you'll find in this Yosemite Elopement Guide:  
Best Time to Elope in Yosemite
Best Yosemite Elopement Locations
The Legal Stuff: Permits, Officiants, and Marriage Licenses
Where to Stay in Yosemite
Alternatives to Yosemite
Yosemite Elopement Inspiration
Yosemite Elopement Tips
Yosemite Elopement Packages  
Best Time to Visit Yosemite National Park for Your Elopement
Are you wondering when the best time to visit Yosemite National Park for your elopement is? I find the weather to be a personal preference (you can count on me being there any time of year) but I must warn you that heavy tourism will absolutely make your elopement more difficult when it comes to the lack of privacy and parking. Below I account for temperature and the number of park visitors to give you the best times of year to elope in Yosemite National Park:
Yosemite National Park is stunning any time of year, but your experience is going to be different depending on when you elope! Here's what you can expect throughout the year.

Winter for your Yosemite Elopement
Snowy weather begins in November and doesn't quite let up until March or April! For this reason, the roads to some of the more iconic views like Glacier Point or Taft Point are closed so you will be limited to the lower elevation locations, like Yosemite Valley. During this time, visitation is low and road conditions are challenging. Snow chains are recommended. Skiing, snowboarding, ice skating, and sledding take center stage for the park's activities. If you are looking for a winter wonderland elopement in Yosemite Valley, choose January for your best odds. But also be prepared for rain and mud by bringing waterproof boots and clear umbrellas as one can never know! 
Spring for your Yosemite Elopement
Roads to epic spots like Glacier Point and Taft Point usually open sometime in May and the crowds don't pick up until July, making June a great time to visit these spots while still ensuring a little privacy! At this time, the valley is lush with spring foliage but it can also get a little muddy– so come prepared with good boots for the occasion. Hands down, the best part about visiting Yosemite National Park from late May to early June is how the winter snowmelt makes the waterfalls overflow for the most incredible of sights!
Check out these Spring Yosemite Elopements:
Summer for your Yosemite Elopement
In just the span of 2 months, over 1.4 million visitors will access the park. With perfect weather and incredible sights, it's no wonder the park swells with people from all over the world. If you decide to take advantage of the fabulous weather expect to face other challenges. It will be imperative to choose a weekday for your elopement, limit your attendance to only those who can carpool with you (photographer included!), and release any expectations of getting to visit any particular spot. Be prepared for vendors to turn down working in the park during this time and for intense traffic jams that could take hours out of your day.

Fall for your Yosemite Elopement
The waning temps bring crisp fall air, colorful leaves, and a decrease in visitors. The waterfalls may be dried up but the leaves start changing in late September/early October and are at their peak by mid-October into November. I recommend late September and early October for elopements in Yosemite as it's the perfect time to beat the crowds but still catch some really enjoyable weather!
Check out these Fall Yosemite Elopements:
Wild & Free Tip 
Whatever Time of Year – Pick a Weekday!
With any national park, the weekends can be BUSY! For some peace and much-needed privacy for photos, opt for a weekday for your Yosemite National Park Elopement! This opens up incredible location options, preferred vendor options, and highly competitive accommodation options in the area! 
Yosemite Elopement Locations & Wedding Venues
You've probably seen those insane photos of couples standing on cliffs over Yosemite Valley, and the great thing about eloping at Yosemite National Park is that you can elope anywhere – as long as your ceremony is no bigger than 10 people! For bigger celebrations, there is a list of pre-approved locations, but you can always go to some of the other spots for photos afterward.
Here are some of the most iconic spots, and the best places to elope in Yosemite!

Glacier Point
Glacier Point is an overlook that gives you one of the most incredible views of Yosemite Valley, Half Dome, and Yosemite Falls. This spot is easily accessible (you can drive right up to it when Glacier Point Road is open), and of course, insanely beautiful – which means it's definitely popular! Even sunrise is usually busy, but you'll see fewer crowds early in the day. The lighting here is best at sunrise, so it's a great place to start your elopement day!
The Glacier Point Amphitheater is available for weddings, so if you have a few guests, this is a perfect spot for a morning ceremony.

Taft Point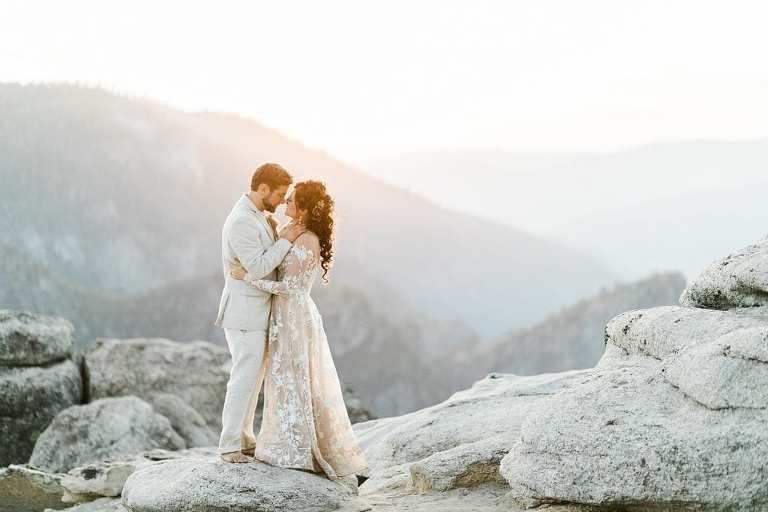 While Glacier Point is Yosemite's best sunrise view, Taft Point offers the best sunsets! This one requires a hike – but after just 1.1 miles through ferns and moss-covered trees, with sunbeams peeking through the greenery, you'll be greeted with an incredible view of Yosemite Valley, Yosemite Falls, and El Capitan. You can get some incredible photos standing on the cliff over the valley, and if you stay a little past dusk (don't forget a headlamp!), you'll enjoy a little more privacy as the sunset fades from the sky. 

Tunnel View
Tunnel View is one of the most famous views in Yosemite National Park, with Half Dome, El Capitan, and Bridalveil Falls all making an appearance! This spot is located right off the road, so it's nearly always busy. But, it's a good place to pull over for a photo op as you drive up Glacier Point Road!

Yosemite Valley
In Yosemite Valley, a developed area with lodging and restaurants, as well as some gorgeous scenery! El Capitan Meadow provides views of the famous El Capitan and a boardwalk trail around the field, and there are several other trails where you can see all the iconic spots up close. This part of the national park is lower in elevation, which means it's the best place to elope in Yosemite during the winter!
Wild & Free Tip 
Chat Up a Yosemite Elopement Expert
At Wild & Free, we're all about helping couples find spots off the beaten path! The truth is that Yosemite National Park is an incredibly popular location – for elopements and for everyday visitors, which means solitude is hard to come by. We provide custom location recommendations and tips for your elopement so that you can have the best day possible!
How to Legally Elope in Yosemite
To make your marriage legal, and to ensure that you don't get booted by park rangers, here's what you'll need to know about the paperwork and how to elope in Yosemite National Park!

Yosemite Elopement Permits
If you're dreaming about eloping in Yosemite National Park, you will need a Special Use Permit. I can help you fill out the form once we have a date and location selected! The permit costs $150 and goes toward protecting the park. Choosing Yosemite for your ceremony is not only one of the most scenic options out there, but it's also extremely cost-effective. 
For conservation purposes, here are the items the park allows: 
Use of existing picnic tables and benches
Cooler with water 
Bouquet 
Cake
For conservation purposes, here are the items the park does NOT allow: 
Any live animals, including pets, doves, butterflies, horse-drawn carriages, etc.
Releases of inanimate objects: Birdseed, Balloons, Bubbles, Smoke Bombs, Confetti, or Rice
Additional seating other than park benches and picnic tables
Amplified music, PA systems, televisions, or radios
Decorations or posted signs
Receptions in picnic areas
Drones
Yosemite Marriage License
To get legally married, you'll need a marriage license from the state of California.
You'll want to make an appointment to obtain your marriage license ahead of time. You can do this at any California County Clerk office, even if you're not a California resident! Afterward, your license can be used anywhere in the state! If you'd like to learn more about California's marriage license options and which one works best for your ceremony plans, visit the California Elopement Guide.

Yosemite Elopement Officiant
Now that you have your marriage license out of the way, you'll need a Yosemite elopement officiant to legally sign it to make it official. I can either help you find an officiant in the area OR I can guide you through a self-uniting ceremony! I'm ordained to do so through the Universal Life Church. If you'd like to read more about what a self-uniting ceremony would be like, visit Ultimate Guide to Your Elopement Ceremony.
Wild & Free Tip 
Consider a self-uniting ceremony!
A self-uniting ceremony for your Yosemite elopement allows for more privacy and freedom for your ceremony. You will first read your vows to one another in a way that feels the most natural and comfortable for you and then I will sign as your wedding officiant! I am ordained through the Universal Life Church.
Where to Stay When You Elope in Yosemite
Between all the amazing adventures you'll have when you elope in Yosemite, you'll need a place to get some shut-eye! 
One of my favorite places to stay just outside the park is Autocamp Yosemite. It's a really unique place tucked in the woods, with glamping tents, cabins, and Airstreams!
You can also rent a private cabin, stay at a cute bed and breakfast, or camp in the park!
Alternatives to Yosemite National Park
A lot of couples love the scenery of Yosemite National Park, but aren't as in love with the crowds and the competitive permit process – but if you're in that boat, here are some places to consider instead!

Kings Canyon National Park
Kings Canyon is just a few hours away from Yosemite, and it features huge mountains, deep canyons, and giant Sequoia Trees! The landscape is similar to Yosemite, with way fewer people out and about.

Sierra Nevada Mountains
The Sierra Nevada Mountain range runs north to south for 400 miles in eastern California, and offers some of the most incredible mountain scenery, with some of the most easily accessible views! The town of Mammoth Lakes is close to Yosemite, and nearby you'll find hiking trails and hot springs perfect for a relaxing elopement day.
Yosemite Elopement Inspiration
Once you start planning your day, check out this Yosemite elopement board for inspiration!
Give us a follow on Pinterest for elopement inspiration from all over the world!
You can also check out: Lissa + Nate's Yosemite Elopement
Yosemite Elopement Tips
Eloping comes with a few extra logistics that you don't usually need to think about with a traditional wedding – so here are a few things to keep in mind for your Yosemite elopement!

Wildfire Season
Unfortunately, California summers often bring wildfires, especially in remote, wild places like Yosemite National Park. If you plan your elopement for summertime, be sure to think about backup plans in case it's too smoky or the park closes!

Download Offline Maps
There is little to no cell reception in Yosemite National Park, so make sure to download offline maps so that you can navigate around! If you're meeting up with any vendors or any of your guests, have a super clear plan for when and where you'll join them.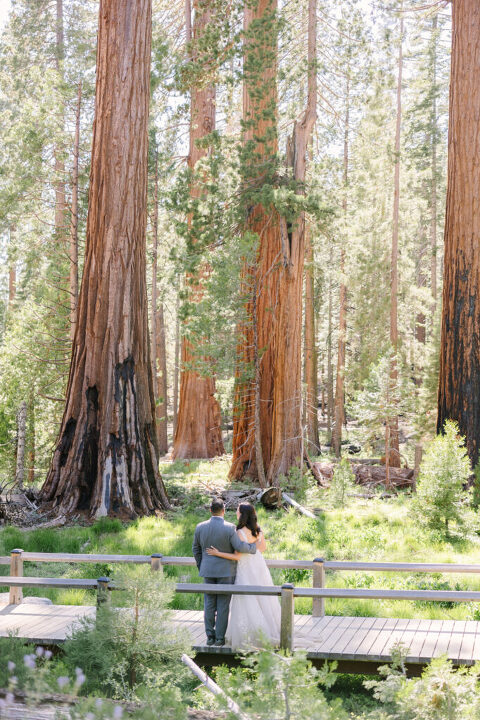 Invest in an Elopement Photographer
You're going to want to remember those jaw-dropping views! But aside from documenting the best day of your life, we'll guide you through the planning process and help with everything – from finding the perfect place to tie the knot, to creating an epic timeline for the day. 
You'll never regret investing in these incredible memories!
Yosemite Elopement Packages – Are You Ready to Elope Wild & Free?
Your wedding day should be about what truly matters – the two of you getting married! All of our Yosemite elopement packages are customized just for you so that you have an elopement day that's unique, and absolutely unforgettable.
Yosemite Elopement Packages include:
Photography coverage

Options from 6 hours to 2-days of photography coverage with Joni, who has over 13 years of experience
Photographer's travel covered to your destination
A fun photo experience where you'll feel comfortable in front of the camera in no time and have all of your special moments captured

Location Lookbooks to show you ceremony and portrait spots for the dreamiest photos 
Creative timeline design to make everything flow perfectly on your day
Exclusive planning tools to help you design the best day

Our helpful magazine + a self-paced planning checklist to guide you through designing your elopement from start to finish 
Questionnaires for us to get to know you and your unique vision    
Vendor Lookbooks to build your dream team 
Alternative reception ideas for those looking to celebrate out-of-the-box  
Sustainability and Leave No Trace education for a wedding day you can feel good about 

Officiant signature for self-uniting ceremonies
Amazing photos + free downloads

3-5 sneak peek images within one week of your day so you can share your gorgeous portraits with friends and family right away 
Your full story in hundreds of edited digital images delivered within two months to relive the entire adventure over and over again 
Your own personal gallery to share your images with family and friends 
Free high-resolution digital downloads for everyone (no paying per photo or per download!) 
Printing rights to all photos 
Access to professional quality prints, wall art, magazines, and albums conveniently available for purchase a la carte right inside your gallery
Elopement packages start at $7200
If you're ready to elope Wild & Free in Yosemite National Park, contact us! Bring us your half-finished ideas and your big dreams, and we'll help you craft your elopement day, from start to finish.