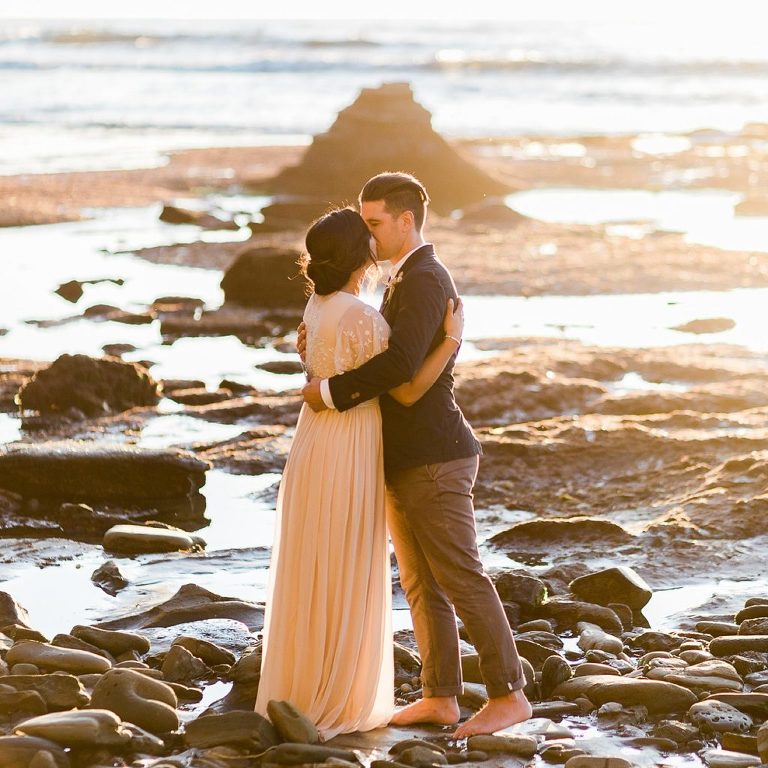 San Diego Elopement Locations + Guide
---
Known for its idyllic weather, endless sunshine, and a coastline alternating between rugged cliffs and palm tree studded beaches, the laid back town of San Diego makes the perfect place for your elopement! For any couple hoping for a wedding day they'll actually enjoy, if a big, stressful event doesn't sound like your jam, consider eloping in San Diego!
What you'll find in this San Diego Elopement Guide: 
Why you should elope in San Diego
Best San Diego Elopement Locations
Best Time to Elope in San Diego
The Legal Stuff: Permits, Officiants, and Marriage Licenses 
What to Do
Where to Stay
Example Timelines  
San Diego Beach Elopement Tips
Alternatives to San Diego
The Cost of Eloping in San Diego  
San Diego Elopement Packages – Are you ready to elope Wild & Free? 
Why You Should Elope in San Diego
Not sure if a San Diego elopement is right for you? Let's see if any of these reasons help you decide!
Beautiful Beaches
Of course, one of Southern California's main attractions is the beaches! In San Diego, you'll find surfing beaches perfect for relaxing, along with rocky shores with cliff faces to explore. The beaches are stunning year round, making them some of the best places to elope in San Diego. You can even spot the adorable seals hanging out on the beach or playing in the water!
Delicious Food
With its proximity to Mexico (you could even pop over the border and explore Baja when you elope), San Diego has some of the best Mexican cuisine. Not only that, but it's a popular spot for everything from seafood to Italian!
Wonderful Weather
The weather in San Diego is pretty idyllic – it's warm and sunny nearly all year, making it a perfect winter elopement getaway for couples around the world! The coastal breeze gets chilly, but temps rarely dip too far below 50.
San Diego Elopement Locations – The 10 Best Places to Elope in San Diego
Here's the hardest thing about eloping in San Diego – deciding on just one place to elope! Don't worry though, most of my couples choose an all-day elopement that provides us the opportunity to visit a multitude of locations and different types of scenery.
This is the place I call home, so I've spent tons of time exploring. Lucky for you I'm happy to share! Here are a few San Diego elopement locations to consider for your day.
If you'd like to purchase a full list of gorgeous ceremony spots for intimate weddings in San Diego, >>CLICK HERE<<
Sunset Cliffs
There's a reason this place makes all of the top places to elope lists, and why it's one of my favorite San Diego elopement locations — it's pretty magical! It's actually so great that it gets its own guide. This is an absolutely fabulous place to watch the sunset, and I have a little secret cove to retreat to so we can avoid the crowds! It's pretty much imperative you select a weekday for this San Diego elopement location as it's ultra-popular (but wooorrrrttthhhh it). 
Anza Borrego Desert State Park
Anza Borrego is technically still in San Diego County so I am going to happily put it on the list of elopement locations! I'm obsessed with Anza Borrego, especially in the Spring! The wildflowers, the canyons, the mountain views –I love it all! 
This area can get pretty remote so if you are looking for a little more privacy, this may be your spot!
If you'd like to purchase a full list of gorgeous ceremony spots for intimate weddings in San Diego, >>CLICK HERE<<
La Jolla 
Rugged beach and absolute luxury meet to create the perfect La Jolla elopement experience! With all the fabulous dining and epic views — you can't tell me this isn't one of the best places to elope in San Diego! This location is known for being a snorkeling hotspot, which I think is the perfect way to make your La Jolla elopement extra exciting.
I have a favorite little cove I like to photograph couples in, so let me know if you'd like to be one of them 😊
Mission Trails Regional Park
This massive park is such a beauty! I absolutely love the rolling hills of the San Diego area. Featured beautifully here in Mission Trails Regional Park, the rolling hills are lit stunningly in the evening and the way the sun sets behind them, I just adore! Definitely consider this park for your San Diego elopement location!
If you'd like to purchase a full list of gorgeous ceremony spots for intimate weddings in San Diego, >>CLICK HERE<<
Torrey Pines
Famous for soooo many things already, but let's add "ultimate San Diego elopement location" to its title! Totally stunning, and unique in its own ways, Torrey Pines would make a great spot to commit yourselves to one another! Black's Beach is one of the best places to elope in San Diego – located in Torrey Pines, this famous nude beach is actually packed with wonderful outdoor scenery! While I'm completely comfortable with nudity (I am an outdoor boudoir photographer, after all) I think it's worth it to be open-minded about this location as the backdrop is stunning cliffs and tall sandstone walls! So gorgeous! 
Heck, maybe this beach will inspire you and you'll end up with a little skinny dipping to top of your evening 😉
Julian
About an hour east of the city, Julian provides a nice getaway from the hustle and bustle of it all. Imagine the wind blowing through the tall grass, mountain views, and a quiet place to say your vows! That's what Julian has to offer!
If you'd like to purchase a full list of gorgeous ceremony spots for intimate weddings in San Diego, >>CLICK HERE<<
Carlsbad Cliffs
Up in the Northern part of San Diego County, Carlsbad Cliffs provides lovely sunsets, an adorable village for dining, and easy access as it's right off the 5! This is super close to my home in Oceanside and it's one of the more unique places to elope in San Diego!
Coronado Island
If I could describe Coronado in a word – CHARMING. 
Coronado Island is the cutest little community and I've had the privilege of spending a lot of time there, so I know a Coronado Beach elopement would be incredible! You'll want to check out the historic Hotel Del, walk up and down Orange Ave to see all the shops, and spend time on the soft sandy beaches! Rent a bike to really top off the charm factor, and if you're considering a Coronado Beach elopement, I don't think you can go wrong.
Glamis Sand Dunes
Ok… this one is technically just outside of San Diego County, but I HAD to include it in this list of places to elope in San Diego, because it's so dang fun. A 2.5-hour drive from the city, I say it's super worth it for a little room to play and have a truly intimate elopement ceremony! 
Paired with boho vibes, I see this spot being the best everrrrr 🙌🏼 
If you'd like to purchase a full list of gorgeous ceremony spots for intimate weddings in San Diego, >>CLICK HERE<<
Balboa Park
Another famous spot — Balboa Park has to make the "top places to elope in San Diego" list. It is truly a beautiful place. The architecture, the plant life, and the insane amount of variety (hello cacti next to flower gardens next to ancient trees), I'm certain you'll find everything you want for your Balboa Park elopement!
Secret Wild & Free Spots
I'm always keeping my eyes open for secret local spots to share with my elopement clients! I love finding those spots that aren't all over the internet yet and enjoying nature without all the crowds, so get in touch to learn more about my special location lists!
If you'd like to purchase a full list of gorgeous ceremony spots for intimate weddings in San Diego, >>CLICK HERE<<
The Best Time to Elope in San Diego
There's really no bad time to elope in San Diego! The weather is pretty mild year round, though it does change slightly with the seasons. 
Wild & Free Tip
One thing to keep in mind is that the coast is usually a little chillier, so your San Diego elopement location will make a difference. As you head inland it gets warmer, and any time you're by the ocean there's likely to be more of a breeze – which can feel pretty cold in the winter!
Winter in San Diego
San Diego never gets too frosty – so if you're traveling here for your elopement, it can be an incredible getaway in the winter. However, don't underestimate the coastal winds! Especially if you're out in the morning or in the evening, you'll want layers. If you want guaranteed 70 degree weather, head inland and you'll find warmth all year round!
Spring in San Diego
A lot of the parks and beach side cliffs are extra colorful in the spring, as the succulents are a vibrant green and the wildflowers bloom in different colors. Spring can be a great time to elope before the biggest crowds come in the summer, and the weather is pretty warm most days! The "May Gray" rolls into San Diego late spring, and turns into a "June Gloom" that lasts until around mid June – this is when the marine layer creates a cloudy mist, causing some overcast days. But this moody fog actually looks pretty cool, and it often clears out for sunset!
Summer in San Diego
Summer is by far the most popular season in San Diego, and you'll see a lot more crowds out and about, as well as higher prices for hotels and rentals. The weather is amazing, but with how busy it is (especially the beaches), it can be hard to get some privacy! 
Fall in San Diego
Fall is my favorite time for a San Diego elopement! The summer crowds clear out, and the weather is warm, and between spring and fall, this time of year is less crowded.
Wild & Free Tip
Elope on a weekday!
This is especially important during San Diego's busy season, but I recommend eloping on a weekday no matter what to help you have the place all to yourselves. Weekends are inevitably busier no matter where you go, so to avoid crowds, avoid Fridays, Saturdays and Sundays!
The Legal Stuff
Along with all the adventures and once in a lifetime experiences you'll have, there are also some logistics – also known as the legal stuff. Here's what you need to get legally married when you elope in San Diego.
San Diego Wedding Permits
A lot of parks and outdoor recreation areas require a permit for an elopement ceremony! This depends on the San Diego elopement location you choose, so be sure to do some research and see if you need one for your ceremony. 
Don't worry, I'll help guide you through this once we have a location figured out!
San Diego Marriage License
To get a marriage license, you'll need to visit any county clerk's office in California. If you live in the state, you can go to one close to home, but if you're building a pit stop into your travel plans, there's an office in San Diego, and you can print out the application or apply online. Be sure to bring your photo IDs! After you get your marriage license, your ceremony needs to happen within 90 days.
San Diego Elopement Officiant
You need an officiant to sign the marriage license, but there are two ways that I can help with that! I can help you find an officiant to perform the ceremony, or I can sign the document myself. I'm ordained, so you won't have to worry about finding someone else! 
Wild & Free Tip
Consider a self uniting ceremony
As an elopement photographer, I know how important privacy, freedom, and spontaneity is for eloping couples – and self uniting means you don't have to worry about having someone else perform your ceremony, or about meeting them at a particular place and time. I can sign as your officiant, making this step easy as pie!
What to Do in San Diego
Here's what not to do when you elope in San Diego – reduce your elopement day to just a ceremony and a few photos. This is your wedding day! That's a pretty big deal, and you should celebrate that with a day that reflects the two of you and the start of your marriage. You can do anything you want – but here are just a few ideas!
Have a Boho Picnic
I can't think of a better place to have a picnic than the beach – and obviously San Diego has plenty of those! Have a boho picnic, complete with a blanket, decor, and delicious food set up for you for a truly unique experience!
Go Surfing
There are so many spots popular with surfers along the coast of San Diego, so if you love paddling out and catching some waves, go surfing on your elopement day! And if you don't already love it, you can take some surfing lessons for a fun new experience to have together.
Take a Hike
One of my favorite things about San Diego is that there's so many different types of scenery, all within a 30 minute drive! Hiking the trails is a great way to experience the natural beauty that SoCal has to offer, so whether you hike by the beach, head east to see the desert, climb a few mountains, or wander through a eucalyptus forest, you'll love being outdoors in San Diego!
San Diego Elopement Inspiration
To get inspired for your own San Diego elopement, check out this Pinterest board! Create your own to start dreaming up your day, and follow along for more tips and resources.
Where to Stay in San Diego
You'll find anything from campsites to luxury resorts in San Diego – so choose somewhere that will feel like a home away from home, so you love coming back after a day of exploring.
San Diego Hotels and Resorts
There are so many waterfront stays in San Diego! Paradise Point is tucked in Mission Bay, offering activities such as jet skiing, paddle boarding, and sailing. At the La Jolla Hotel, you can stay right next to the Cove, watching seals from your window – or grab your snorkel gear and head down to the beach to get up close and personal!
San Diego Airbnbs
For some cozy places to stay, check out Airbnb! You'll find unique cabins, waterfront condos, and so much more. 
San Diego Campgrounds
If you and your partner love getting outside, a camping elopement might be a unique way to celebrate! Waking up on the beach is an experience like no other, and you can find campgrounds in San Diego's parks, or check out Hipcamp for unique stays hosted by people who own land around this area.
Sample Timelines
As you're planning your adventures for your San Diego elopement, think of anything and everything that would make your wedding day the best day ever! We can start the day at a hip Airbnb, head to the forest for a first look, have a ceremony in the mountains, get ice cream and Mexican food, have a picnic on the beach, watch the sunset over the water, and anything else you can possibly dream up! Here are a few examples of elopement days in San Diego.
Balboa Park Elopement With Family
9:00 Family breakfast at Fig Tree Cafe
11:00 Drive back to Airbnb
11:30 Hair and Makeup begins
1:00 Drive to Balboa Park
1:30 Put on ceremony attire
2:00 First look & couples photos
3:00 Ceremony
3:30 Family goes back to Airbnb, couple drives to beach
4:00 Picnic
6:00 Sunset photos
7:30 Drive back & meet family at Airbnb
8:00 Dinner with private chef
"Just Us" Coronado Beach Elopement
9:00 Pancake breakfast
11:00 Drive to Pacific beach
11:30 Surf lesson
1:00 Drive back to Airbnb
2:00 Hair and makeup begins
4:00 Drive to Coronado Beach
5:00 Put on ceremony attire
5:30 First look & couples photos
6:00 Ceremony
6:30 Picnic
7:30 Sunset photos
Wild & Free Tip
Avoid harsh sunlight
There's nothing worse than harsh sun for photos – and you won't like squinting into the light much either! At the beach, there often isn't much tree cover or shade, so it's best to head to the beach later in the evening. You can go somewhere woodsy first, then catch the sunset by the ocean!
I make a timeline for each of my couples to ensure that you're getting the most out of your day, and that the light is optimal for every part of your elopement!
San Diego Beach Elopement Tips
Your elopement is going to be so much different from a traditional wedding – that's kind of the point, right? So for a San Diego beach elopement, there are a few extra things to think about!
Pick Good Shoes… or No Shoes
I don't know about you, but I can't stand when the sand gets in my shoes (plus wet socks… no thanks)! And of course, high heels would make it nearly impossible to walk – so opt for something comfy, like sandals or flip flops. No shoes is always an option too, and nothing says boho and carefree like toes in the sand!
Embrace the Wind
Your hair isn't going to stay perfectly placed – but that's part of the magic! The coastal breeze will create a windswept look, but lean into it and embrace the mess. Your photos will show a gorgeous, carefree elopement day that looks completely authentic – because it should be!
Avoid Midday Sun
Earlier in the day, opt for a location with more shade! Harsh light is something we want to avoid in photos, so I recommend heading to the beach early in the morning or later in the evening. The sunsets are always incredible!
Wild & Free Tip
Chat up an expert!
Every San Diego elopement location has its own set of challenges, perks, and more – so make sure that when you hire a photographer for your elopement, you find someone who's an expert and can give you advice, tips, and more for a perfect elopement day.
Alternatives to San Diego
Love the coast and the beaches of San Diego, but not sure if it's just right? Here are some other places to elope nearby!
Laguna Beach
Located in Orange County, Laguna Beach is a little farther north. It's known for its caves and beaches, with tide pools, surf spots, and a boardwalk made for exploring the paths and gardens by the ocean. 
Malibu
Malibu is just west of Los Angeles, with luxurious places to stay, upscale amenities, and miles of cliffy coastline to explore! This is the ultimate "SoCal" experience, perfect for any elopement.
Santa Barbara
The Santa Ynez Mountains frame Santa Barbara, which features lovely Spanish architecture, stunning beaches to relax on, and a rich history!
The Cost of Eloping in San Diego
Eloping means you get to decide what matters to you, and what you want to spend money on! Your wedding day is absolutely worth investing in, but instead of paying for a bunch of stuff you'll never see again, you can pay for an incredible experience. Here are a few things to consider as you craft your elopement budget!
Travel – Do you need flights or transportation?
Accommodations – You'll need somewhere to come back to after your adventure so whether it's a campground, trendy Airbnb, or an upscale resort, find something that fits your vibe!
Meals – Don't forget about food! You can pack a picnic, stop at a local eatery, or even hire a private chef.
Marriage License – Fees vary by county, but average around $90 across the state.
Wedding Permit – If you need a permit, depending on the park and area will average between $200-600.
Wedding Attire – Dresses, suits, or whatever you'll be wearing when you tie the knot!
Hair and Makeup – You can totally do your own, but hiring a professional is so worth it and helps ensure things stay put throughout your adventure – this usually ranges from $300 to $1000.
Florals – Add a bouquet, flower crown, boutonniere, or floral decorations to your day! A professional florist ranges from $300 to $1500.
Photographer – Relive your memories over and over by investing in a photographer you love! Elopement photographer packages average from $4000 – $20,000
Wild & Free Tip
You'll never regret investing in good photos
You'd be surprised how fast memories fade – and photos are the only way you'll be able to experience your elopement day over and over! Investing in an experienced photographer isn't just about the quality of their photos – it's about making sure they have the gear necessary for outdoor elopements (and for safely backing up your photos), the experience they need to guide you through the planning process, and the understanding that your day isn't a rushed version of a traditional wedding – it's an intentional, meaningful, once in a lifetime experience.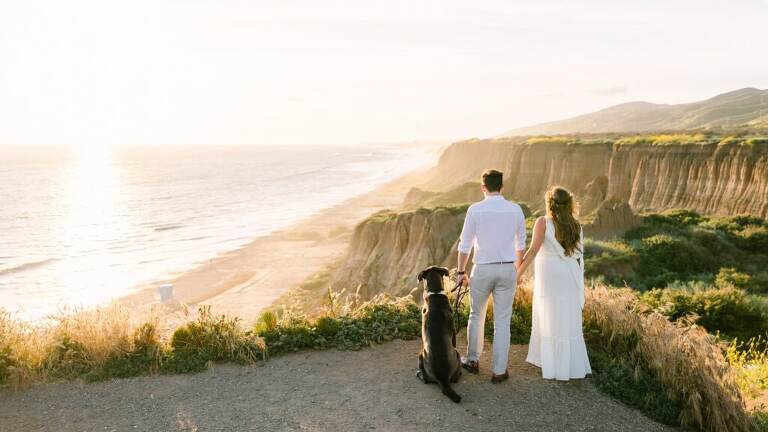 San Diego Elopement Packages – Ready to Elope Wild & Free?
We want to make sure your elopement is nothing short of incredible – which means that your day will be completely customized for you. From sharing the best places to elope in San Diego to crafting an unforgettable timeline, we've got your back! 
This is a day you'll remember forever, so if you're ready to elope Wild & Free, get in touch!
San Diego Elopement Packages Include:
Photography coverage

Options from 2 hours to 2-days of photography coverage with Joni, who has over 13 years of experience 
Photographer's travel covered to your destination
A fun photo experience where you'll feel comfortable in front of the camera in no time and have all of your special moments captured

Location Lookbooks to show you ceremony and portrait spots for the dreamiest photos   
Creative timeline design to make everything flow perfectly on your day
Exclusive planning tools to help you design the best day

Our helpful magazine + a self-paced planning checklist to guide you through designing your elopement from start to finish 
Questionnaires for us to get to know you and your unique vision    
Vendor Lookbooks to build your dream team 
Alternative reception ideas for those looking to celebrate out-of-the-box  
Sustainability and Leave No Trace education for a wedding day you can feel good about 

Officiant signature for self-uniting ceremonies
Amazing photos + free downloads

3-5 sneak peek images within one week of your day so you can share your gorgeous portraits with friends and family right away 
Your full story in hundreds of edited digital images delivered within two months to relive the entire adventure over and over again 
Your own personal gallery to share your images with family and friends 
Free high-resolution digital downloads for everyone (no paying per photo or per download!) 
Printing rights to all photos 
Access to professional quality prints, wall art, magazines, and albums conveniently available for purchase a la carte right inside your gallery


Read more about Wild & Free Elopement packages here!