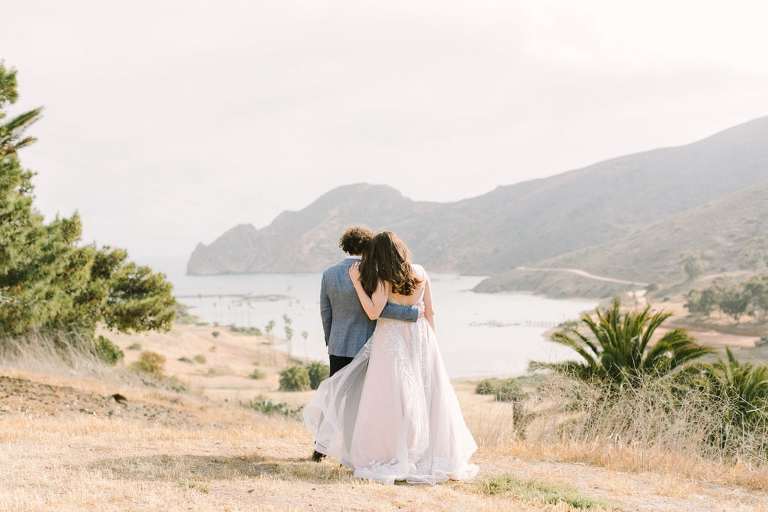 Catalina Island Elopement Guide
---
A few miles off the shore of Los Angeles is Catalina Island, accessible only by boat or helicopter, or private plane. On the island, you'll find countless beaches and endless outdoor adventures, combined with upscale resorts, rest, and relaxation. For a wedding day that's a little (or a lot) outside the box, consider a Catalina Island elopement if you want to combine scenic beauty with refreshing luxury! It's the perfect getaway, and this guide will tell you everything you need to know to get married on Catalina Island.
What you'll find in this Catalina Island Elopement Guide: 
How to Get to Catalina Island
Best Places to Get Married on Catalina Island
The Best Time for a Catalina Island Elopement
The Legal Stuff: Permits, Officiants, and Marriage Licenses 
What to Do on Catalina Island
Where to Stay 
Example Timelines  
Alternatives to Catalina Island
The Cost of a Catalina Island Elopement 
Catalina Island Elopement Packages – Are you ready to elope Wild & Free? 
How to Get to Catalina Island
Catalina Island is, of course, an island. With no roads from the mainland, getting here requires a little bit of planning! There are two ways to get to Catalina Island – by boat, or by helicopter.
How to Get to Catalina Island by Boat
There are two options for ferries to Catalina Island. The Catalina Flyer departs once a day from Newport Beach, and a round trip ticket for an adult costs $70. The Catalina Express has more options, departing from Long Beach, San Pedro, and Dana Point several times a day. A ticket for the Catalina Express is $76 round trip. Whichever option you choose, it's recommended to reserve your tickets online ahead of time to ensure your spot on the ferry!
You can also charter a private boat from the mainland instead, and get to Catalina Island that way!
How to Get to Catalina Island by Helicopter
Imagine flying over the ocean to get to your elopement location – how epic would that be?! For a really unique experience, you can take a helicopter to Catalina Island. IEX Helicopters offers rides from Orange County, Long Beach, Sand Pedro, and Burbank to Catalina Island – the flight takes just 15 minutes, but for your elopement, consider adding a helicopter tour!
With a tour, you can fly over the island, and see the cliffs over the ocean, the rugged interior of the island, and maybe even the dolphins in the water! IEX offers island tours, and even a heli-picnic, where you can fly to a remote location and enjoy a private, scenic picnic with a view.
Private planes and helicopters are also able to fly into Catalina's Airport in the Sky (psst… we know a plane guy who can give you a ride on your elopement day)! 
The Best Places to Get Married on Catalina Island
Catalina Island is full of stunning scenery and incredible locations for your elopement! With beaches, coastal cliffs, and the rugged hillsides found in the interior, there are plenty of backdrops for your day. Here are some of the best places to get married on Catalina Island! 
Two Harbors
There are two main towns on Catalina Island – Two Harbors and Avalon. Each one offers something unique, with gorgeous places to get married! Two Harbors is our favorite, and it's a rustic village surrounded by incredible outdoor adventures. The best places to get married on Catalina Island can be found near Two Harbors if you're looking for natural scenery and outdoor fun – whether it's hiking, snorkeling, or diving.
Avalon
Avalon is the only incorporated city on Catalina Island, so it's the center of the hustle and bustle! Beautiful beaches and scenic places to get married on Catalina Island can be found around here, as well as shops, hotels, and activities. Avalon has more amenities than Two Harbor, so it's busier. The best place to get married on Catalina Island, and whether you choose Two Harbors or Avalon will depend on what you want to do! 
Secret Wild & Free Spots
Though Two Harbors and Avalon are the two main spots to go in Catalina Island, and you'll likely find your lodging there, Catalina Island has tons of backcountry and incredible scenery in between the two towns! All around the island, there are hidden gems and secret spots that aren't as well known, and we're all about finding them.
When you elope Wild & Free, you'll get access to a personalized list of location recommendations – with all our favorite secret gems that we've found over the years! Privacy is important for your elopement day, so get in touch to learn more about our location lists.
The Best Time for a Catalina Island Elopement
Catalina Island is an incredible destination year-round, so there's no bad time for an elopement! Like most of Southern California, the weather is mild and the sun shines nearly year-round. Here are some things to know about the best time for your Catalina Island elopement, based on weather and crowds.
Wild & Free Tip
Don't forget that it's always colder by the water. You'll likely spend some time on the beach when you elope in Catalina Island, so keep in mind that the coastal breeze can get chilly, fast! Always bring some extra layers.
Winter for your Catalina Island Elopement
Winter is the coldest season on Catalina Island, but it rarely gets too cold! During the day, temperatures are usually in the high 50s or low 60s, so it's comfortable and great for hiking. Mornings and evenings can be chilly, however, with average lows dipping into the 40s. And don't forget about the coastal breeze! Winter can be a great time to elope, especially if you travel here from colder climates, but be sure to pack layers.
Spring for your Catalina Island Elopement
Spring is one of the best times to elope on Catalina Island. Summer is the busiest season, so eloping in the spring means you'll avoid some of the crowds! The weather is warm, and while the beginning of spring is sunny, May brings something called "May Gray." This refers to the low-level clouds that roll in at the end of spring, creating overcast conditions all over the coast of Southern California. The fog usually hangs around in mid-morning but burns off by late afternoon, so you can still catch the sunset!
Summer for your Catalina Island Elopement
As the foggy season continues, May Gray turns into "June Gloom," so it stays overcast until around mid-June. As the weather warms up, summer is the most popular time for tourists on Catalina Island. The idyllic weather and sunshine is amazing for elopements, but you will likely run into more people this time of year.
Fall for your Catalina Island Elopement
Along with spring, fall is one of the best times for a Catalina Island elopement! The summer crowds go home, the weather is still sunny and warm, and the island is amazing for hiking. The price of lodging drops a ton after the busy season, so you'll save some cash by eloping in the fall as well.
Wild & Free Tip
Elope on a weekday!
No matter what time of year you elope on Catalina Island, tying the knot on a weekday guarantees at least a little more privacy! More people are out and about on the weekends, so by getting married during the workweek, you'll have an easier time finding a secluded spot. 
The Legal Stuff – Getting Legally Married on Catalina Island
This is the paperwork part – the legalities and logistics of your Malibu elopement. It's not as exciting as beaches and mountains, but it's important! Don't worry, we have everything you need to know right here.
Catalina Island Wedding Permits
Depending on where you decide to get married in Catalina, you may need to get a permit if you tie the knot on a beach or in an outdoor location. After you settle on a spot for your elopement, we'll help you figure out if a permit is required for your ceremony, and how to get one!
Catalina Island Marriage License
To get legally married on Catalina Island, you'll need a marriage license. This needs to be obtained in California, so you can go to any county clerk's office in the state.
There are no offices on the island, so the closest office is located in Los Angeles. The two of you will need to go in person, and an appointment is recommended – this can be booked up to two weeks in advance online. You'll need your photo IDs, and at the appointment you'll apply for and receive your marriage license! Once you get it, it needs to be used within 90 days.
For more info on California marriage licenses, check out this guide!
Catalina Island Elopement Officiant
You'll need an officiant to sign your marriage license, but you have a few options for this! First, you can hire a professional to perform your ceremony. But, we know how important privacy and freedom are for an elopement day, so we're ordained and can sign the papers to legally marry you!
Wild & Free Tip
Consider a self-uniting ceremony.
Instead of having an officiant, you can also do a self-uniting ceremony! This means you do your own thing – exchange vows and rings privately, add whatever customizations you want to your ceremony, and marry yourselves! To be legally married, you still need the officiant's signature on the marriage license, but we can handle that for you! You can learn more about self-uniting ceremonies here.
What to Do When You Elope on Catalina Island
Catalina Island is one of the most incredible places – and there's so much to do! Your elopement day should be an experience that you'll treasure forever, so think about what would truly make this the best day ever. Here are a few ideas for things you can do during your Catalina Island elopement.
Take a Helicopter Tour
With IEX Helicopters, you can book a tour of the island. You'll get a bird's eye view of the whole thing, and can even stop in some of the amazing remote spots! There's nothing like it, and a helicopter tour would be an incredible experience to have on your wedding day.
Explore the Ocean
When you elope on Catalina Island, you can venture off the land to explore the water! You can swim, kayak, snorkel, or even take an undersea excursion or a tour in a glass-bottom boat. The underwater ecosystem of Catalina Island, with colorful fish, majestic stingrays, and other sea creatures, is considered one of the healthiest marine environments in the world!
See the Wildlife
The wildlife in Catalina Island is incredible. Along with the underwater adventures, you can find animals on the shore too! From the beaches, you can often see dolphins playing in the water, and if you head just a little bit outside of town and into the backcountry, there are herds of bison grazing. You can often spot them on a hike, but for the best chance at seeing the buffalo, take the Bison Expedition and head out in a 4×4 to explore the island!
Catalina Island Elopement Inspiration
For more inspiration for your Catalina Island elopement, check out this Pinterest board! Pin from there to start dreaming up your own elopement or follow along for inspiration, tips, and elopement resources.
Where to Stay on Catalina Island
On Catalina Island, you'll find everything from campgrounds to luxury resorts! The main places to stay will be in Two Harbors and Avalon.
Places to Stay in Two Harbors
Two Harbors is more remote, with rustic cabins and unique villas. The Banning House Lodge is a restored bed and breakfast, with big rooms and views of the ocean. Villa Santa Cruz is perfect for couples eloping with guests, as it can accommodate a small group for a private stay!
For some added adventure, check out campgrounds on Catalina Island, or these glamping cabins for a gorgeous retreat with all the amenities you'll need!
Places to Stay in Avalon
Avalon has more hotels and resorts, and it's great if you want to be close to the action! 
The Pavilion Hotel is located right on the beach and makes a convenient place to stay in Avalon. The cozy but elegant Mt Ada Bed and Breakfast is on the hillside, with incredible views of the surrounding scenery.
Sample Catalina Island Elopement Timelines
We want your elopement day to be truly unforgettable – so every couple that elopes Wild & Free gets a custom timeline of the day, personalized to the two of you and what you want to do! Eloping is all about the experience – so plan a day that you'll never forget!
Here are some sample Catalina Island Elopement timelines, and ideas for your day!
Catalina Island Elopement With Family
Ferry to Avalon
Check in at Mt Ada
Hair and makeup begins
Put on ceremony attire
First look & couples photos
Walk to beach
Return to beach, walk to Lover's Cove
Ceremony
Photos with Family
Family goes back to Mt Ada, sunset couple's photos
"Just Us" Helicopter Catalina Island Elopement
Hair and makeup begins
Put on ceremony attire
First look
Drive to IEX Helicopters
Helicopter + picnic tour begins
Ceremony and picnic in remote location, couple's photos
Helicopter tour ends, couple walks to Pavilion Hotel
Sunset photos at Lover's Cove
Wild & Free Tip
Avoid harsh sunlight
When you make your elopement timeline, think about the lighting! Harsh sunlight is bad for photos, as it creates shadows and dramatic lines. When you're planning your elopement, we recommend having your ceremony closer to sunrise or sunset, when the lighting is best! Hiring an elopement photographer is crucial, as they'll be able to guide you on the best times for everything throughout the day.
Alternatives to a Catalina Island Elopement
If Catalina Island isn't exactly what you're looking for, or you want a place that you can reach by car, here are some places that offer similar scenery!
Big Sur
Big Sur has sweeping coastal cliffs, and if you head inland there are lush forests and mountain views! The landscape is similar to Catalina Island but more remote. It's a little easier to find a private place for your ceremony in Big Sur.
San Diego
San Diego is close to Catalina Island, just a few hours south of Los Angeles. It's a laid-back city by the ocean, where you'll find sunny beaches, hiking trails in the hills, and tons to explore. One of our favorite places in San Diego is Sunset Cliffs, with sea caves and dramatic cliffs that look over the water.
Malibu
Malibu is a city on the coast of California, where you'll find beautiful beaches, rugged mountains, and luxurious places to stay! The scenery is similar to Catalina Island, but Malibu is conveniently located just a little west of Los Angeles.
The Cost of Eloping on Catalina Island
When you make your budget for your Catalina Island elopement, you get to decide what's important to you, and how you want to spend your money! The cost of eloping on Catalina Island can vary a ton, but here are some things to think about.
Travel – Do you need flights or transportation?
Accommodations – You'll need somewhere to come back to after your adventure so whether it's a campground, trendy Airbnb, or an upscale resort, find something that fits your vibe!
Meals – Don't forget about food! You can pack a picnic, stop at a local eatery, or even hire a private chef.
Marriage License – Fees vary by county, but average around $90 across the state.
Wedding Permit – If you need a permit, depending on the park and area will average between $200-600.
Wedding Attire – Dresses, suits, or whatever you'll be wearing when you tie the knot!
Hair and Makeup – You can totally do your own, but hiring a professional is so worth it and helps ensure things stay put throughout your adventure – this usually ranges from $300 to $1000.
Florals – Add a bouquet, flower crown, boutonniere, or floral decorations to your day! A professional florist ranges from $300 to $1500.
Photographer – Relive your memories over and over by investing in a photographer you love! Elopement photographer packages average from $4000 – $20,000
Wild & Free Tip
You'll never regret investing in good photos
Our job goes beyond taking photos – we're here to guide you through this entire process! We help our couples with every part of elopement planning because we believe everyone deserves a wedding day that's nothing short of incredible.
We're invested in your experience – and when you look back at your photos, we want you to remember every amazing moment! Your photos will last forever, and they'll allow you to relive this day.
Catalina Island Elopement Packages – Ready to Elope Wild & Free?
Your wedding day should be everything you want, and we want to make your dream come to life! Eloping means planning a day that's carefree, spontaneous, and full of love and laughter. Every elopement is different, so we customize every part to make sure it perfectly reflects your unique love! 
Catalina Island Elopement Packages include:
Photography coverage

Options from 2 hours to 2-days of photography coverage with Joni, who has over 13 years of experience
Photographer's travel covered to your destination
A fun photo experience where you'll feel comfortable in front of the camera in no time and have all of your special moments captured

Location Lookbooks to show you ceremony and portrait spots for the dreamiest photos   
Creative timeline design to make everything flow perfectly on your day
Exclusive planning tools to help you design the best day

Our helpful magazine + a self-paced planning checklist to guide you through designing your elopement from start to finish 
Questionnaires for us to get to know you and your unique vision    
Vendor Lookbooks to build your dream team 
Alternative reception ideas for those looking to celebrate out-of-the-box  
Sustainability and Leave No Trace education for a wedding day you can feel good about 

Officiant signature for self-uniting ceremonies
Amazing photos + free downloads

3-5 sneak peek images within one week of your day so you can share your gorgeous portraits with friends and family right away 
Your full story in hundreds of edited digital images delivered within two months to relive the entire adventure over and over again 
Your own personal gallery to share your images with family and friends 
Free high-resolution digital downloads for everyone (no paying per photo or per download!) 
Printing rights to all photos 
Access to professional quality prints, wall art, magazines, and albums conveniently available for purchase a la carte right inside your gallery
Read more about Wild & Free Elopement packages here!
Ready to elope Wild & Free? Contact us, and let's start planning!