---
Tyler + Zach married at Leo Carrillo State Beach
---
A Boho Malibu Elopement
I'm writing this post at the beach because it only feels right to do so. This Malibu elopement session with Tyler + Zach provides some MAJOR inspiration for all beach lovers who are interested in eloping in Malibu or Leo Carrillo State Beach. If you are thinking about any sort of beach wedding in Malibu, I'm definitely dying to hear about it 😲😍 (Seriously, fill out the contact form at the end of this post, I can't get enough of this place.) Anyways, back to the real topic of this post — Tyler + Zach.
Wow, these two are such fun, beautiful, and connected humans. Tyler and Zach are just meant for each other and you know it just by looking at them! I can't get enough of their big hugs, the way Tyler laughs, or how Zach helps his bride along the tough terrain as she navigates it in her wedding dress! Not to mention Tyler's entire bridal look — Hello, Grace Loves Lace 2-Piece Gown, it's nice to meet you 😍 🤤. As if the boho perfection that dress is wasn't enough, add in some gorgeous loose hippy braids by Kendall Greer, unique handmade jewelry by Hadley Frances, and Tyler's own personal ring stache…. and, yeah, I'm done for. It's all too amazing for me to handle.
Malibu Elopement Photographer
Love these big laughs from the bride, Tyler, at her Malibu beach elopement!
Love these big, big hugs 🤗
Tyler is a masterpiece of a woman 🤤 🤩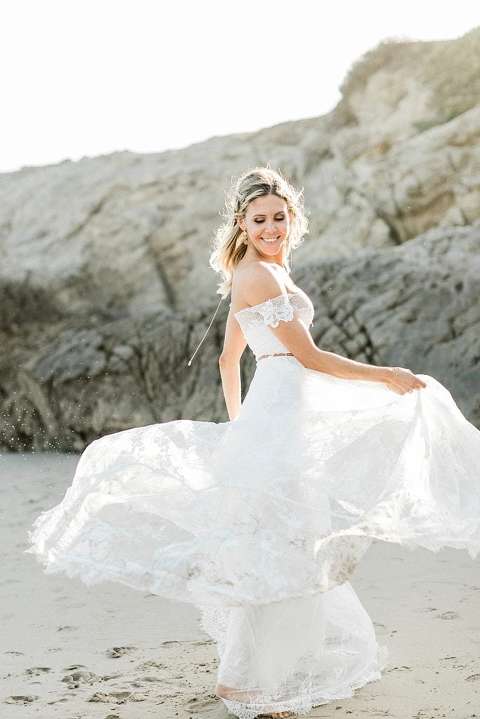 These two are too perfect together!!!!
Leo Carrillo was good to us 🥰
The amazing artists that brought this Malibu beach elopement to life:
Photography: Joni Bilderback Photography | Dress: Grace Loves Lace | HMU: Kendall Greer | Florals: Pluck Floral | Jewelry: Hadley Frances Jewelry | Model: Tyler Chase + @zglass | Workshop: The Heart Workshop
If after this, you are dreaming of a Malibu beach elopement too, I'd be happy to chat with you about:
Malibu elopement packages
Malibu beach wedding permits
Malibu elopement photography tips
Best times of day for those glowy photos
Different seasons and dates and their feasibility with the crowds
Other activities and fun things you can do with your awesome day all about you two!
All you have to do is contact me below and we can get to it!! So excited to hear about your magical vision ✨